Press Release


Title: A Map of Kex's Face
Publication Date: December 30, 2014
Format: 215 pages, paperback
Author: Robin Wyatt Dunn
Publisher: John Ott, San Diego, Calif.
ISBNs:
978-1-940830-04-9 paperback
978-1-940830-05-6 ebook


-
"A Map of Kex's Face is a story with a lasting impression." -- D.L. Denham

"The prose is beautiful and thought provoking . . . I'm glad I read this." -- Ofelia Sainz

"This is not a book, but a work of modern art made with words." -- Damien Clauzel

"Pure brain damage." -- Glenn Conley

- - -
Kex is the administrator of the Eidon Academy, a college with an interdimensional porthole on campus, and the intellectual center of a recently seceded Southern California.

Roberto and his wife Sasha are busy acting out a bad campus novel, with infidelities and academic intrigues, when the known universe undergoes some fundamental changes.

Kex is more than a human being, it appears, but also an avatar around whom mandala-like emanations revolve, frequencies whose meaning Roberto must discern if he is to legitimize his new Department of Cartography . . .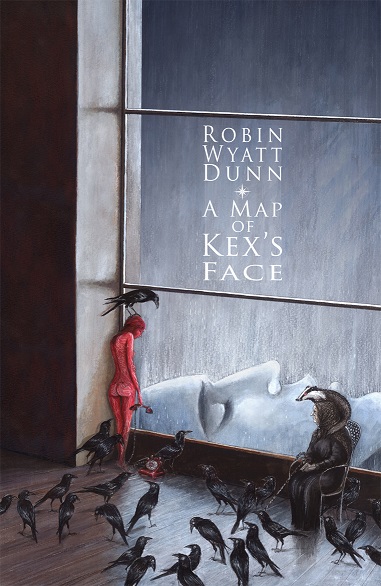 cover art by Barbara Sobczyńska
Available now in:
Paperback
Ebook