A short review of If this document should survive:

To be honest, I'm not sure what I read. I kept at it because the writing was such fun. The story, if there is one, is stream of conscious writing, with beauty in the words. It takes place in a large city in Arizona, though I kept trying to put it in Las Vegas. The protagonist works in a windowless office, beneath the city, and fancies himself in love, or maybe lust, with a woman who wears dead scorpions in her hair.

It was an interesting story to read before turning the light out. I stretched it over 3 nights, and no nightmares; it is not a horror story, just weird and strange. This is the first story I've read by Mr. Dunn. I will try at least one other. As mentioned above, I'm not sure what I read, but the writing was enjoyable, hence the 4 stars instead of 3. Actually, if the writing hadn't been as good as it is, I wouldn't have finished it.




Lenora Good
September 2, 2022






I read my poem "The Empires of Old" at the first public reading of 2022 SFPA Rhysing-nominated poems.



May 6, 2022&nbsp&nbsp&nbsp&nbsp




My novellette If this document should survive is reviewed on Librarything:


This is a short work (less than 100 pages), focused on the musings of the writer for what appears to be a timespan during the pandemic, albeit in a more fictionalized mental setting with a touch of sci-fi thrown in. The writing feels a bit stream-of-consciousness at times, but still aimed towards the reader as if the story is trying to speak to you directly. Recommended for: those who enjoy offbeat short reads.



TooLittleReading
May 4, 2022&nbsp&nbsp&nbsp&nbsp






My poem "the empires of old" has been nominated for the 2022 Rhysling Award.



February 24, 2022&nbsp&nbsp&nbsp&nbsp




A review of Some Dredged Deep on librarything.com:

The poems in Some Dredged Deep circle around three subjects: a war between the US and Canada, the poet, and the question of shock vs. surprise. While having more of the former two might have grounded the collection more solidly, I returned again and again to the last. Though there were moments of surprise--lines and phrases that made me look at the containing poem's subject in a new light--these moments were overwhelmed by moments of shock. Though shock can be an effective tool for building up to surprise, much of the shock didn't lead me to anywhere but the shocking image. For readers of horror who are explicitly looking for shock, I think this collection would satisfy.

T.D.Walker
September 8, 2020&nbsp&nbsp&nbsp&nbsp




A review of City, Winter on librarything.com:

This was a really weird read. Really weird. Deeply weird.

It is prose poetry and leans hard on the poetry angle but also not quite but also, yes, fully that. Thomas and his dog Henry are in hell. Hell it turns out is Graduate School. Is language. Is institutions. Is what comes after those things are over and we must, or at least Thomas and the cast of characters in City, Winter must contend with. Storms are coming and they are weird too. Robin Wyatt Dunn takes us the weird way by poetry and digging deep into language. There are few answers. There will be many questions. It is almost like it is a translated work - it feels like it comes from another galaxy and Dunn is the translator of an Epic poem from within his own mind.

Its weird. It will weird you out in the best way and it begs to be reread because it will leave you after sections just staring trying to come to terms with what was just read. There are origins. There are endings and colors and puzzles, and always, as ever, a good dog.

modioperandi
September 8, 2020&nbsp&nbsp&nbsp&nbsp




My poem "the way the silence covers the light" was nominated for Best of the Net.


July 25, 2020&nbsp&nbsp&nbsp&nbsp




Wiki.ezvid.com featured me and 5 other short story writers on their video blog.


May 12, 2020&nbsp&nbsp&nbsp&nbsp




My poem "Disassembly at Auction" was nominated for a 2020 Rhysling Award.


April 1, 2020&nbsp&nbsp&nbsp&nbsp




Dustin Pickering calls me one of the "last real poets."


October 19, 2019&nbsp&nbsp&nbsp&nbsp




A good review of The Black King of Kalfour on amazon.com:

I think people will either love or hate this book, I see very little middle ground. It's a mix between prose and poetry to tell a single, intentionally disjointed story. I feel like I still need to read it another 5 or 6 times at least to pick up all the references I've missed, and readers would benefit from some type of footnotes to catch everything. The author uses different styles and intentionally chosen words and formatting to create amazing imagery and a reading experience that, for me, felt almost like I was reading a concert or art gallery. Even knowing that I was missing parts on the first read, the writing had me completely entranced. I did read the short description on Amazon prior to reading the book, so I was expecting dimension hopping and some level of disconnect, but this book takes it to the extreme. You can feel the main characters hope and confusion while going through it because of the writing. I would definitely recommend the book to someone looking for amazing writing that is outside the box, like a modern Faulkner or Joyce.

Alison Wiley
February 2, 2019&nbsp&nbsp&nbsp&nbsp




A shout-out from Rob Mclennan about illiterature, issue eight, and my micro-poem 'some swan.'

December 9, 2018&nbsp&nbsp&nbsp&nbsp




Nominated for Best of the Net for poems in the Scarlet Leaf Review.

October 2, 2018&nbsp&nbsp&nbsp&nbsp




Mobius: the Journal of Social Change nominated my poem "we're measuring the flow of blood" for Best of the Net.

October 2, 2018&nbsp&nbsp&nbsp&nbsp




I read at the University of New Brunswick's Poetry Weekend.

September 29, 2018&nbsp&nbsp&nbsp&nbsp




New Pop Lit nominated my piece "Cry Wolfe" for Best of the Net.

September 27, 2018&nbsp&nbsp&nbsp&nbsp




New Pop Lit reviews This isn't one of the stories I remember.

June 8, 2018&nbsp&nbsp&nbsp&nbsp




I read my long poem "Carmina Burana" as the featured poet at Second Sunday Poetry. My "farewell show" to Los Angeles.

May 13, 2018&nbsp&nbsp&nbsp&nbsp




Duane Vorhees interviewed me. "I've declared myself an enemy of America."

March 10, 2018&nbsp&nbsp&nbsp&nbsp




New Pop Lit reviews Debudaderrah.

Robin Dunn is one of the most talented writers in America– yes, for sheer imagination and wordplay– akin to a musical virtuoso who can play any genre, any style, jazz to blues to boogie to Debussy and Chopin. The trick for someone with the kind of ability which seems to come easy is harnessing it. Focusing the talent to sharpen the effect.

March 10, 2018&nbsp&nbsp&nbsp&nbsp




I was interviewed by Vatsala Radhakeesoon for Setu Magazine.

December 1, 2017&nbsp&nbsp&nbsp&nbsp




I read at LA Lit Review's Indie Author Day. Free candy!

October 31, 2017&nbsp&nbsp&nbsp&nbsp




Terry Melia reviews Colonel Stierlitz for Sabotage Reviews.

Imagine the text of a novella written in blocks on a Rubik's cube. The blocks move as you read, shifting and forming stranger patterns which you realise will never form a complete solution… This is how I felt navigating through this weird and amusing fantasy novella.

September 29, 2017&nbsp&nbsp&nbsp&nbsp




Ben Beach reviews What black delirious daylight sets you forward in the boat:

"Robin Wyatt Dunn's "What black delirious daylight sets you forward in the boat" is a poem of repetition: words, phrases, ideas, and images appear, disappear, and reappear in the same or other forms. In this way, it reads like a boat rides the waves, each swell and crest is distinct even as it appears identical to the previous and the next.

Only when you look up and focus on something more distant does it become clear that, in fact, the boat has been progressing toward some destination. That destination in this poem is an awakening or revelation that is worth the trip, if you will just keep paddling. Enjoy the ride as the images unfold before your eyes and then drift away.

"I unfold for you / Like a poem / A weaponized simulation of reality / Set to stir your feet.

"Inside the simulation, / I am breaking the windows, carefully, / With a hammer."

If you are not careful this poem could be the hammer to the window of your heart. But only if you read it closely."


August 16, 2017&nbsp&nbsp&nbsp&nbsp


Sam Rose reviews my book Science Fiction: a poem! in Peeking Cat Poetry:

"Robin Wyatt Dunn seems to fly into space, observing the human race from afar yet still zooming in on the intricacies of love and relationships, and all the complicated feelings that go with them. The poem has an unusual style, but I think that's what makes it interesting and brave. It may inspire you to step out of your comfort zone and try writing something completely alien to you."

May 27, 2017&nbsp&nbsp&nbsp&nbsp


Read at Second Sunday Poetry from my work in progress.

May 14, 2017&nbsp&nbsp&nbsp&nbsp


I was memed by Flush Fiction, from my story "I am Never Alone When I am With You."

May 19, 2017&nbsp&nbsp&nbsp&nbsp



Alex Frankel invited me as the featured poet for Second Sunday Poetry in North Hollywood. I read from my new book, Science Fiction: a poem.

March 12, 2017&nbsp&nbsp&nbsp&nbsp


Read at Free Speech Thursdays in Hollywood.

January 19, 2017&nbsp&nbsp&nbsp&nbsp


"Under the Shadow of Oz, Redux," in which I respond to charges I am an Anti-Semite.

January 19, 2017&nbsp&nbsp&nbsp&nbsp


I was made a finalist for Poet Laureate of Los Angeles.

January 10, 2017&nbsp&nbsp&nbsp&nbsp


Read "This is a night in Los Angeles" at Second Sunday Poetry in North Hollywood.

January 8, 2017&nbsp&nbsp&nbsp&nbsp


Nigel Robert Wilson wrote a classy review of Colonel Stierlitz for British Fantasy Society.

November 21, 2016&nbsp&nbsp&nbsp&nbsp


Read at Second Sunday Poetry in North Hollywood.

November 13, 2016&nbsp&nbsp&nbsp&nbsp


Read at Gothic Night, hosted by Statement Magazine, CSULA.

November 2, 2016&nbsp&nbsp&nbsp&nbsp


Nominated for Best of the Net for "The Venus of Merchants" in concis.

September 29, 2016&nbsp&nbsp&nbsp&nbsp


Interviewed at the Scarlet Leaf Review.

September 24, 2016&nbsp&nbsp&nbsp&nbsp


A kind review of Poems from the War at London Grip.

August 27, 2016&nbsp&nbsp&nbsp&nbsp


Me reading my poem "Southern California" at Second Sunday Poetry in North Hollywood.

August 14, 2016&nbsp&nbsp&nbsp&nbsp


My poetry was nominated for Best of the Net by Scarlet Leaf Review.

July 26, 2016&nbsp&nbsp&nbsp&nbsp



I was memed by Michelle Hammer of Schizophrenic NYC, from my story "Every corpse I ever loved I found in Bethlehem."


July 19, 2016&nbsp&nbsp&nbsp&nbsp



I was interviewed online as a guest at Night Owl Reviews about Conquistador of the Night Lands.

June 20, 2016&nbsp&nbsp&nbsp&nbsp



Jeff McDonald reviews Colonel Stierlitz in his blog 'ArchaeoTexture.'

June 16, 2016&nbsp&nbsp&nbsp&nbsp



Olga Zolle reviews Poems from the War:

I have been taken through a journey, perhaps to a parallel universe, where each written poem is a separate stepping stone over a river of war turmoil and pungent emotion. Death, life, justice, injustice... so much going on in so many few words. All the contradictions of war: a war of special social connotations against the rich. There is so much to this little book.

June 12, 2016&nbsp&nbsp&nbsp&nbsp



Read my poem "Hollywood men" at LA's Roar Shack.

May 15, 2016&nbsp&nbsp&nbsp&nbsp



My Poems from the War was reviewed by Sophie Chouinard at cahoodaloodaling.com.

May 1, 2016&nbsp&nbsp&nbsp&nbsp



Julia, Skydaughter got a 5-star review:

"A simple, nice and well-written book that pleased me to no end. It was short and strange but infinitely palatable, showing me great sights and wanting me to last longer. But anyway, a wonderful exercise in writing."

April 22, 2016&nbsp&nbsp&nbsp&nbsp



A quick interview with me by Fiona Mcvie.

March 29, 2016&nbsp&nbsp&nbsp&nbsp



Won 1st prize in poetry in a contest at the Scarlet Leaf Review.

February 21, 2016&nbsp&nbsp&nbsp&nbsp



A review of 'Dead guns #1' which includes my story "Saint Francis."

February 12, 2016&nbsp&nbsp&nbsp&nbsp



My short story "I am Winter" received another nice review.

February 1, 2016&nbsp&nbsp&nbsp&nbsp



Gigi Pandian and I talked about our new books at Mysterious Galaxy bookstore in San Diego.

January 31, 2016&nbsp&nbsp&nbsp&nbsp



My short story "I am Winter" received a kind review at Marooned Off Vesta.

January 23, 2016&nbsp&nbsp&nbsp&nbsp



Today my poetry chapbook Be Closer for My Burn was nominated for the Elgin Award.

January 15, 2016&nbsp&nbsp&nbsp&nbsp



Today I began my first artist's residency at Chalk Hill.

January 10, 2016&nbsp&nbsp&nbsp&nbsp



New Pop Lit nominates my story "Los Angeles After the Queen" for the Pushcart.

December 3, 2015&nbsp&nbsp&nbsp&nbsp



Locus reviews my story "I am Winter."

November 28, 2015&nbsp&nbsp&nbsp&nbsp



Carol Kean at Perihelion wrote a glowing review of Julia, Skydaughter:

"Five Stars!"

November 12, 2015&nbsp&nbsp&nbsp&nbsp



My short story "The Coens" was reviewed by Tom Breen at Muzzleland Press:

"Robin Wyatt Dunn's "The Coens" mixes science fiction slipstream adventurism with cosmic finality."

November 1, 2015&nbsp&nbsp&nbsp&nbsp



Conquistador of the Night Lands was reviewed in Library Thing.

October 23, 2015&nbsp&nbsp&nbsp&nbsp



Conquistador of the Night Lands was reviewed in Publishers Weekly.

October 23, 2015&nbsp&nbsp&nbsp&nbsp



My story "Dreamboat" was nominated for the Canopus Award, which honors stories about interstellar exploration. Yay!

September 23, 2015&nbsp&nbsp&nbsp&nbsp



Publishers Weekly reviewed my novella Julia, Skydaughter.

August 24, 2015&nbsp&nbsp&nbsp&nbsp



Ethan Robinson wrote a kind review of my story "Dreamboat," comparing me to Tiptree and Cordwainer Smith. Yay :)

August 5, 2015&nbsp&nbsp&nbsp&nbsp



Elizabeth MacDuffie at Meat for Tea kindly nominated my story "Airship" for Best of the Net this year.

August 4, 2015&nbsp&nbsp&nbsp&nbsp



Sam Bellotto Jr., publisher of Perihelion, wrote this about my writing:

"His style, a combination of experimentalism, stream of consciousness, and poetic outbursts, is always a treat. Like a rich cheese cake or fudge brownie, a small slice is perfect."

July 12, 2015&nbsp&nbsp&nbsp&nbsp



I read my poem "my lover's lips" as a featured writer at Roar Shack in Echo Park.

July 12, 2015&nbsp&nbsp&nbsp&nbsp



Anneliese Kappey on my short story "The Sun King":


"This was really good. So smart!"

June 12, 2015&nbsp&nbsp&nbsp&nbsp



Sat the HWA tent with Loren Rhoads, Kate Jonez, John Claude Smith, and Brad C. Hodson at Bay Area Book Fest.

June 6 & 7, 2015&nbsp&nbsp&nbsp&nbsp



Read my poem "One more day" published in CSULA's 2015 issue of Statement Magazine.

May 28, 2015&nbsp&nbsp&nbsp&nbsp



Performed at Roar Shack's Live Write at 826LA. :)

May 10, 2015&nbsp&nbsp&nbsp&nbsp



Performed at the 2015 Festival of Language at AWP in Minneapolis.

April 8, 2015&nbsp&nbsp&nbsp&nbsp



Snapping Twig gave me a kind shout out.

April 6, 2015&nbsp&nbsp&nbsp&nbsp



The nice folks at 99 Pine Street gave me a shout out. :)

April 5, 2015&nbsp&nbsp&nbsp&nbsp



I'm interviewed in Dark Gothic Resurrected Magazine's Spring 2015 issue.

April 3, 2015&nbsp&nbsp&nbsp&nbsp



I won the Hidden Prize for Prose with my novella Julia, Skydaughter!

April 1, 2015&nbsp&nbsp&nbsp&nbsp



Meribeth Hutto on Be Closer for My Burn:

"Wonderful book! I highly recommend it!"

March 30, 2015&nbsp&nbsp&nbsp&nbsp



Today I was admitted as an Associate Member to the SFWA. :)

March 18, 2015&nbsp&nbsp&nbsp&nbsp



Jael Quinn reviews A Map of Kex's Face:

"I still like it but I feel like I shouldn't."

March 13, 2015&nbsp&nbsp&nbsp&nbsp



Read my poem "Girl" at the San Gabriel Valley Poetry Quarterly, #65 gathering. Pasadena, CA.

February 28, 2015&nbsp&nbsp&nbsp&nbsp



Made the short list of the Hidden Prize for Prose.

February 27, 2015&nbsp&nbsp&nbsp&nbsp



Performed at Roar Shack's Live Write at 826LA, 1714 Sunset. Fun!

February 8, 2015&nbsp&nbsp&nbsp&nbsp



The nice folks at The Subtopian gave me a shout out.

February 3, 2015&nbsp&nbsp&nbsp&nbsp



Raquel Thorne at Cahoodaloodaling wrote a kind review of my chapbook "A Picnic in England."

January 31, 2015&nbsp&nbsp&nbsp&nbsp



My first brush with the HWA preliminary ballot for the 2014 Bram Stoker Awards! Kate Jonez' anthology Halloween Tales includes my story "Halloween in East Hampton." Yay!

January 21, 2015&nbsp&nbsp&nbsp&nbsp



Armand Rosamilia gave me a shout out.

January 18, 2015&nbsp&nbsp&nbsp&nbsp



I posted on facebook the sad story of my screenplay being stolen by Harrison Ford and Harvey Weinstein. I've also re-posted the story here. Please boycott the movie "The Age of Adaline" -- it's stolen property. Thanks.

January 15, 2015&nbsp&nbsp&nbsp&nbsp



John Burroughs at Crisis Chronicles Press was kind enough to accept my new chapbook Be Closer for my Burn for publication in a print run of 99 copies! Thanks John!

January 14, 2015&nbsp&nbsp&nbsp&nbsp



My Name is Dee receives a nice review from Sandra Scholes at The British Fantasy Society web site.

January 12, 2015&nbsp&nbsp&nbsp&nbsp



My new film American Messenger was released today!

January 11, 2015&nbsp&nbsp&nbsp&nbsp



MacroMicroCosm gave me another nice shout-out.

January 8, 2015&nbsp&nbsp&nbsp&nbsp



I interview myself again at Guy Vestal's site.

December 20, 2014&nbsp&nbsp&nbsp&nbsp



Juliana Rew says my short story "Coyote Ghost" is "gut-checking."

December 19, 2014&nbsp&nbsp&nbsp&nbsp



D.L. Denham wrote a nice review of Kex.

December 18, 2014&nbsp&nbsp&nbsp&nbsp



I interview myself at Vanessa Finaughty's blog.

December 8, 2014&nbsp&nbsp&nbsp&nbsp



Ofelia Sainz reviewed A Map of Kex's Face:

"The prose is beautiful and thought provoking . . . I'm glad I read this."

December 5, 2014&nbsp&nbsp&nbsp&nbsp



Deniz Ataman at Quail Bell Magazine reviews my chapbook Telegrams from X County.

November 30, 2014&nbsp&nbsp&nbsp&nbsp



Marc Vincenz says my flash short "Accelerated Office" "rises to the occasion."

November 21, 2014&nbsp&nbsp&nbsp&nbsp



April Margeson gives a shout out for A Map of Kex's Face.

November 19, 2014&nbsp&nbsp&nbsp&nbsp



My story "On a Train with a Coyote Ghost" is nominated for the Pushcart. Yay!

November 17, 2014&nbsp&nbsp&nbsp&nbsp



I made a reel of my last ten years of filmmaking. Woo hoo :)

November 14, 2014&nbsp&nbsp&nbsp&nbsp



Maureen Bowden reviews my story "On a Train With a Coyote Ghost" from the Third Flatiron anthology, writing:

"Robin Wyatt Dunn's 'On a Train With a Coyote Ghost' is a many faceted parable about a ten -year-old Polish Jew, travelling through Eastern Europe with a coyote ghost from Arizona. They seek the mysterious 'Worker', a Jewish Buddhist who lives in the dome of a Catholic church in Russia. They each tell him their story, and he decides to which of them he'll give the magic broth that will restore their family to health. The story encompasses politics, human conflict, and military might, It creates uncertainty as to whether religion is an attempt to be at one with the Godhead or a comfort zone of shared history and tradition. The story requires and deserves more than one reading."

November 10, 2014&nbsp&nbsp&nbsp&nbsp



Another cool and peculiar review of Kex, from Damien Clauzel, in French:
"Ceci n'est pas un livre, mais une sorte d'oeuvre d'art moderne formee avec des mots."
[This is not a book, but a work of modern art made with words.]
Thanks Damien! :)

November 1, 2014&nbsp&nbsp&nbsp&nbsp



I was interviewed at Third Flatiron.

October 2014&nbsp&nbsp&nbsp&nbsp



My story "Stone Woman" won the Those Who Steal the Spotlight contest in the "Banshee" category at Apex Magazine. It will be published in Apex #66. My first SFWA-eligible sale!


October 31, 2014&nbsp&nbsp&nbsp&nbsp



Glenn Conley writes me the best hate-filled review you can possibly imagine, of my new novel A Map of Kex's Face. He boldly declares:

"this book should be pissed on, then burned, then stomped on until your feet hurt ... It's pure brain damage."

Glad I got under your skin, Glenn!


October 30, 2014&nbsp&nbsp&nbsp&nbsp



I take a Horror Selfie. The HWA is giving away a signed copy of my new novel A Map of Kex's Face.


October 6, 2014&nbsp&nbsp&nbsp&nbsp



MacroMicroCosm gives a shout out about Kex's beautiful cover by Barbara Sobczyńska, and writes: "Make sure to follow Robin Wyatt Dunn and grab his poetry & prose wherever you can. He's got a fantastic voice and his prose is tight." Those sweethearts.


September 4, 2014&nbsp&nbsp&nbsp&nbsp



Nightwing Whitehead reviews Fighting Down into the Kingdom of Dreams.


August 14, 2014&nbsp&nbsp&nbsp&nbsp



John DeNardo at SF Signal gives Third Flatiron's new anthology Master Minds a shout-out. It includes my story "Watching the Skies."


June 18, 2014&nbsp&nbsp&nbsp&nbsp



Micaiah Evans reviews my novel My Name is Dee.


April 4, 2014&nbsp&nbsp&nbsp&nbsp



Sandra Scholes reviews my story "Carcoa Found" from Theaker's Quarterly Fiction, issue 45.


March 20, 2014&nbsp&nbsp&nbsp&nbsp



Keith West reviews my story "Fire Dancer" in the anthology Shadows of a Fading World.


Mar 17, 2014&nbsp&nbsp&nbsp&nbsp



Tania Chowdhury reviews my novella Line to Night Island.


Feb 13, 2014&nbsp&nbsp&nbsp&nbsp



Gail Ofterdinger reviews my novella Line to Night Island.


Feb 12, 2014&nbsp&nbsp&nbsp&nbsp



Victoria Irwin reviews my new novel Fighting Down into the Kingdom of Dreams.


February 1, 2014&nbsp&nbsp&nbsp&nbsp



SkuldOMG at LibraryThing reviews my novella Line to Night Island.


January 30, 2014&nbsp&nbsp&nbsp&nbsp



I was interviewed by author Julia Matthews.


January 28, 2014&nbsp&nbsp&nbsp&nbsp



Bonnie Jo Stufflebeam gives all us John W. Campbell hopefuls a shout out for the upcoming nominations.


January 24, 2014&nbsp&nbsp&nbsp&nbsp



I was interviewed by author Giovanni Valentino.


January 21, 2014&nbsp&nbsp&nbsp&nbsp



Fighting Down is mentioned in Daily Dead's Indie Spotlight.


January 19, 2014&nbsp&nbsp&nbsp&nbsp



I've been listed as eligible for the John W. Campbell award for new SF/F writers.


January 8, 2014&nbsp&nbsp&nbsp&nbsp



I won first prize for fiction in the Loose Change writing contest for my story "Gonzo the Weirdo." Editor Molly Dickinson calls my story "an unapologetically brusque narrative rendered, masterfully, almost entirely in your compellingly weird narrator's raw-yet-polished dialogue."


December 16, 2013&nbsp&nbsp&nbsp&nbsp



My kickstarter for AMERICAN MESSENGER succeeds. &nbsp :)


December 4, 2013&nbsp&nbsp&nbsp&nbsp



I receive my Honorable Mention Certificate for my short story "Vengeance in Men" from the Writers of the Future Contest.

November 22, 2013&nbsp&nbsp&nbsp&nbsp



My short story "Ice," published in Postscripts to Darkness 4, is nominated for a Pushcart Prize.


October 21, 2013&nbsp&nbsp&nbsp&nbsp



Pre-production begins on my new film AMERICAN MESSENGER.


October 18, 2013&nbsp&nbsp&nbsp&nbsp



A review of my novel My Name is Dee by Amy Lovell, at bubblews.com.


September 17, 2013&nbsp&nbsp&nbsp&nbsp



A review of my novel My Name is Dee by Yarrow Paisley, at Shimmer Zine.


September 12, 2013&nbsp&nbsp&nbsp&nbsp



A review of my novel My Name is Dee by Mark McLaughlin, at Foreword Reviews.


August 31, 2013&nbsp&nbsp&nbsp&nbsp



A review of my novel My Name is Dee by Andy Robertson, at amazon.com.


August 9, 2013&nbsp&nbsp&nbsp&nbsp



A review of my novel My Name is Dee by David Leingang, at The Unspeakable Gibberer.


August 2, 2013&nbsp&nbsp&nbsp&nbsp



A review of my novella "Hands and Grater" by Eric C. Garrison, at amazon.com.


June 18, 2013&nbsp&nbsp&nbsp&nbsp



A review of my novella "Hands and Grater" by Jeff Provine, at blogcritics.org


June 17, 2013&nbsp&nbsp&nbsp&nbsp



A review of my novella "Hands and Grater" by Juliana Rew, at amazon.com.


June 9, 2013&nbsp&nbsp&nbsp&nbsp



An interview at the web site of Katina French, about my "Hands and Grater" novella.


May 29, 2013&nbsp&nbsp&nbsp&nbsp



An interview at Alternate History Weekly Update, about my "Hands and Grater" novella.


May 29, 2013&nbsp&nbsp&nbsp&nbsp



My kickstarter for My Name is Dee succeeds. Yay!


May 19, 2013&nbsp&nbsp&nbsp&nbsp



An interview with Nathan Rowark of Horrified Press.


April 25, 2013&nbsp&nbsp&nbsp&nbsp



A review of my story "Thunder Bay" by David Brookes at his blog.


March 19, 2013&nbsp&nbsp&nbsp&nbsp



A review of my story "Son and Woman"
by David Leingang at Smashwords.


March 15, 2013&nbsp&nbsp&nbsp&nbsp



A video interview in Echo Park.


February 11, 2013&nbsp&nbsp&nbsp&nbsp



A review of my anthologized story "The City Underneath"
by Samantha Moore at One Title Reviews.


January 10, 2013&nbsp&nbsp&nbsp&nbsp



A review of my anthologized story "The City Underneath"
by Brandon J. Fiedor at Triangle Arts & Entertainment.


December 5, 2012&nbsp&nbsp&nbsp&nbsp



A copy of the Bibliomantics review of my anthologized short story
"I am a Whale" at Arthur Graham's blog.


October 12, 2012&nbsp&nbsp&nbsp&nbsp



A review of my story "I am a Whale" at Bibliomantics.


May 24, 2012&nbsp&nbsp&nbsp&nbsp



A review of my novel Los Angeles, or American Pharaohs
by Whiskeyfinder at amazon.com.


March 2, 2012&nbsp&nbsp&nbsp&nbsp




Press
Clippings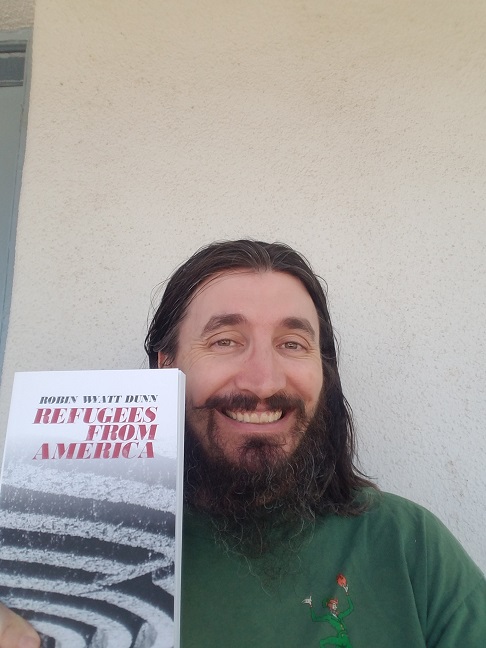 Me and Refugees from America, in Tucson, Arizona.
September 19, 2021.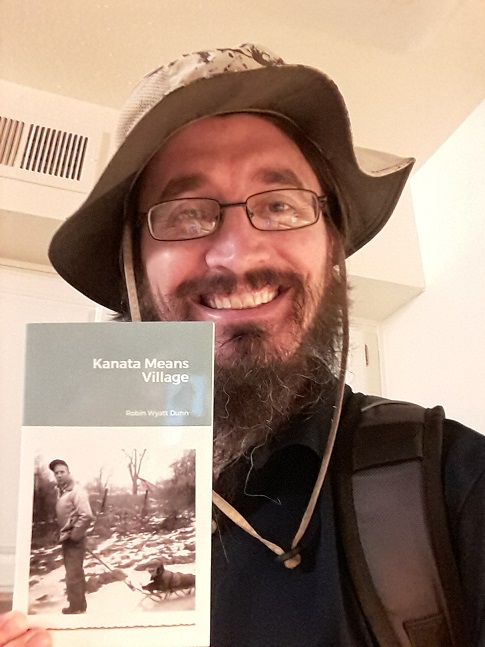 Kanata Means Village, from Gypsy Daughter.
October 19, 2020.





At Uffington White Horse.
December 15, 2019.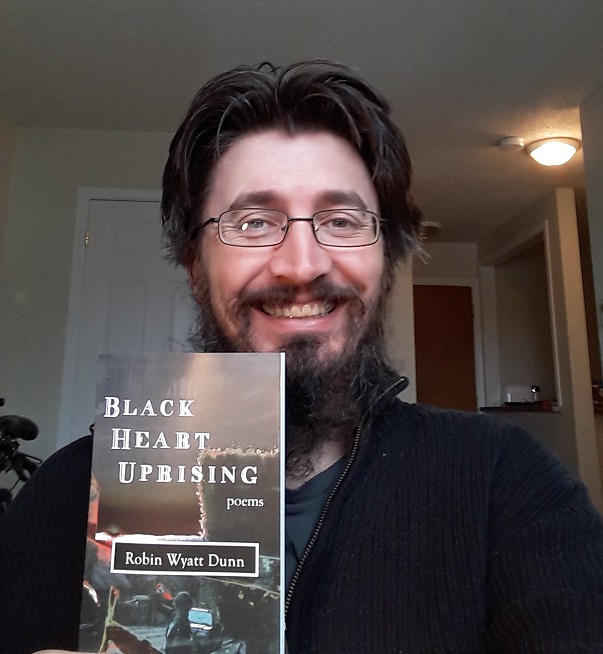 Black Heart Uprising, limited edition.
March 20, 2019.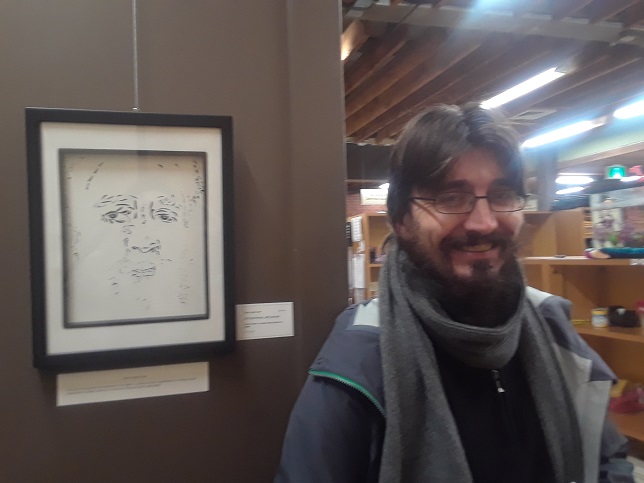 Me and my art at the Recovery Art Show, Fredericton, NB.
November 14, 2018.





Me with Interdisciplinary Humanities "Humanities and Religion" issue,
with my poem "A certain bow of the head."
February 6, 2018.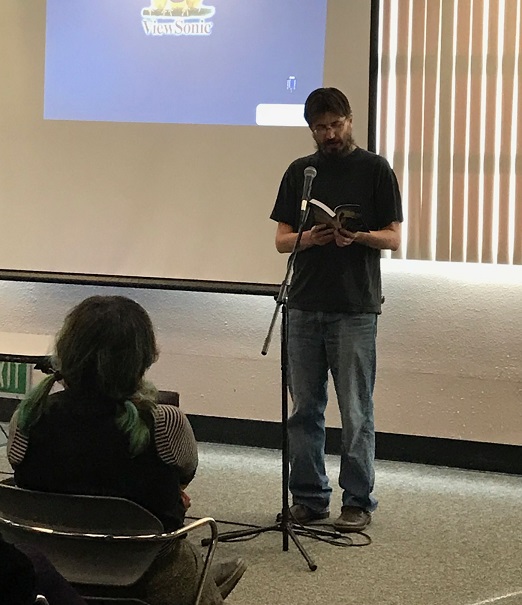 Reading from Black Dove at Indie Author Day in LA.
October 31, 2017.





Red Focks holding Now the Last Light, from his Alien Buddha Press.
September 12, 2017.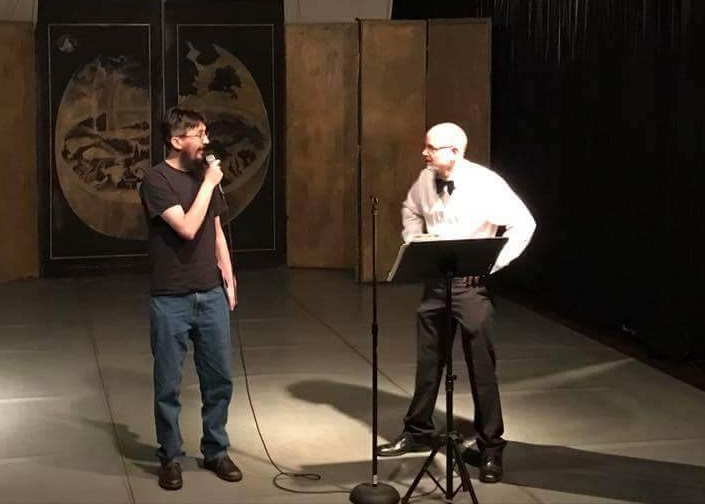 Me being interviewed by Alex Frankel, Second Sunday Poetry.
March 12, 2017.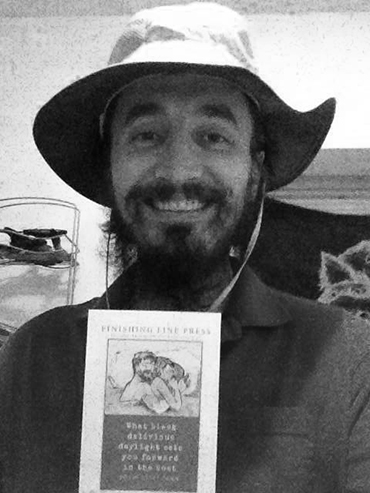 Promotional postcard for What Black Delirious Daylight Sets You Forward in the Boat
March 5, 2017.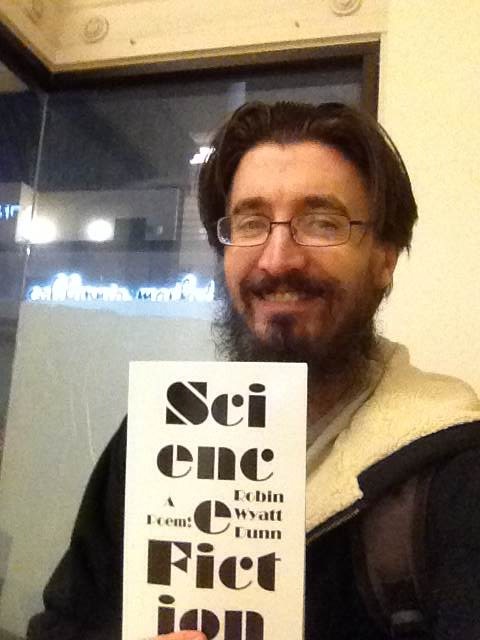 From JEF Books
January 15, 2017.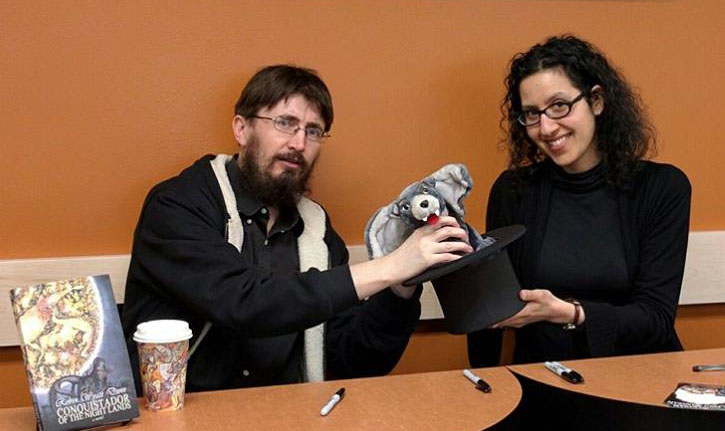 With Gigi Pandian, Mysterious Galaxy bookstore.
San Diego, January 31, 2016.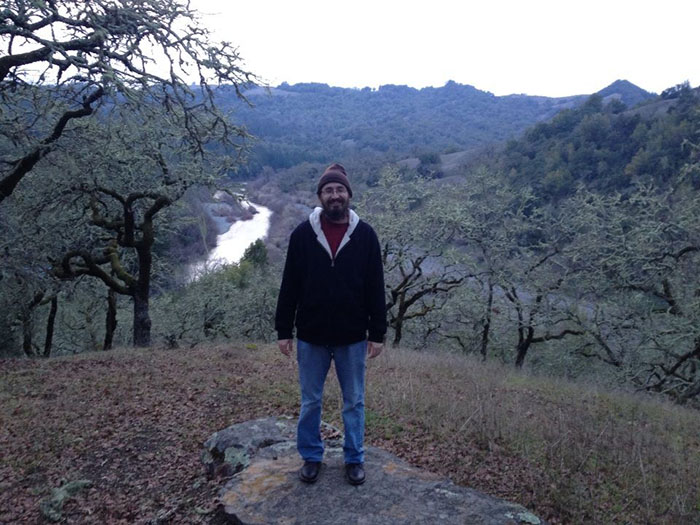 At Chalk Hill Artist Residency, Sonoma County, CA. January 2016.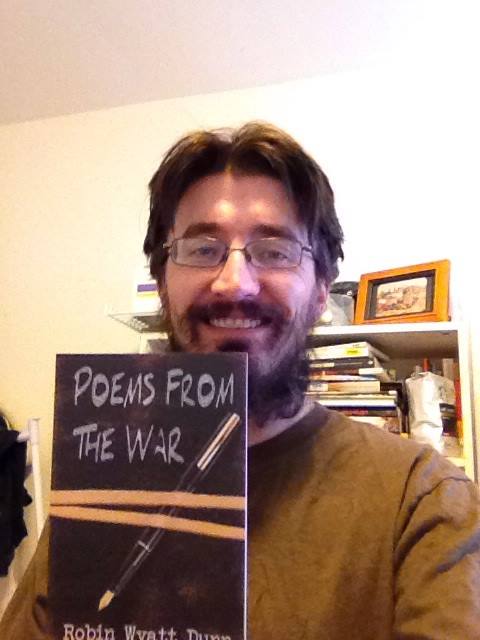 My first book of poetry, December 13, 2015.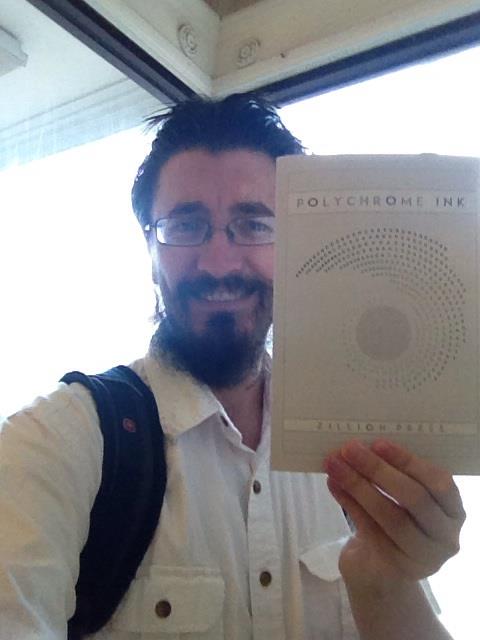 Polychrome Ink, Volume 2, November 3, 2015.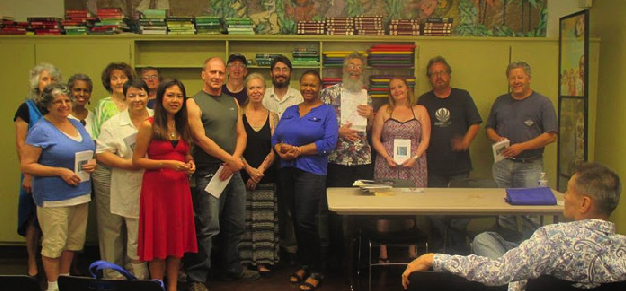 Me and the San Gabriel Valley Poetry Quarterly crew, August 29, 2015.





Me and Statement Magazine, May 2015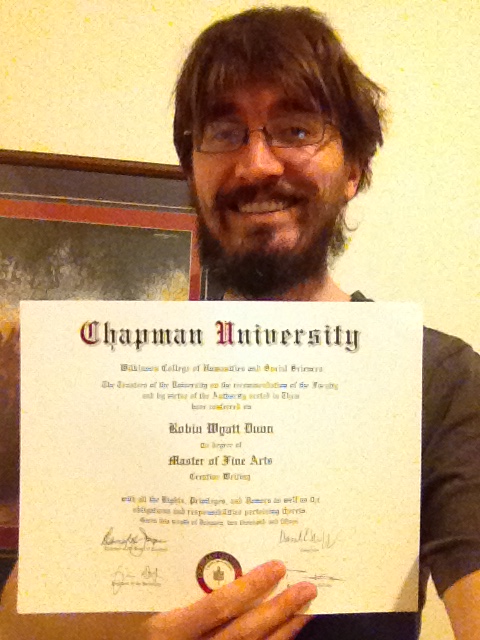 MFA Creative Writing, January 2015